Equipment details
PE WPC Wood Plastic Composite Board Profile Machine
PE WPC Board Profile Machine can be used to produce PE composite decking, and all kinds of outdoor wood plastic profiles. The raw materials are recycled PE, wood flour and a small amount of auxiliary materials.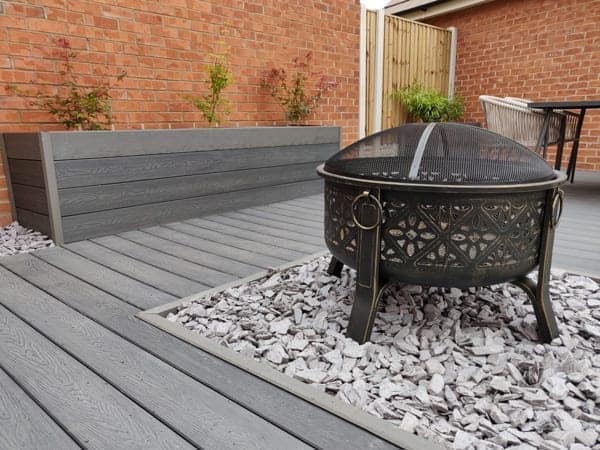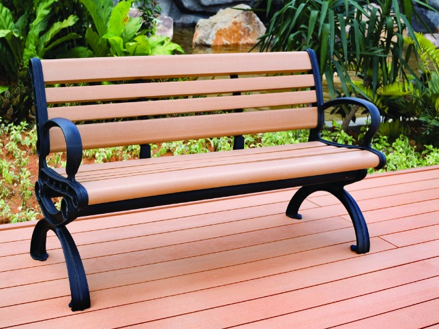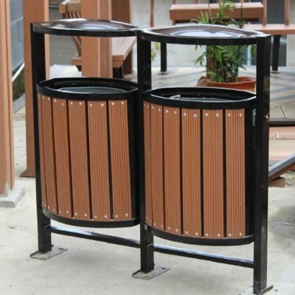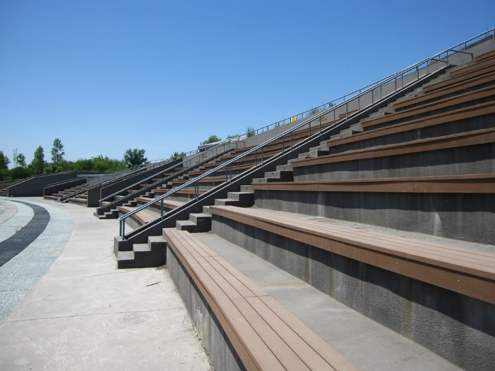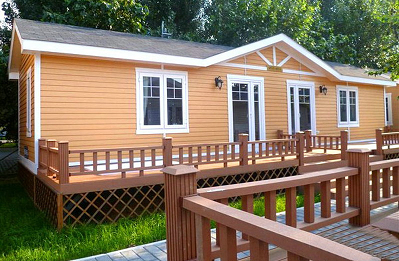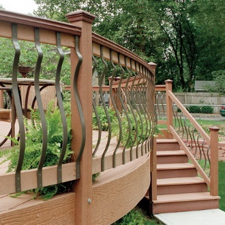 PE WPC Products features:
1. PE wood plastic products are made of recycled plastic (HDPE) and wood flour, plus non-toxic chemical additives, such as UV protection agents, light stabilizers, lubricants, curing agents, etc.
2. Anti-fading design, with anti-mildew performance, even when wet can also prevent slip. The rich color means that the floor can be sanded like traditional wood while maintaining the original color.
3. Adjustable profile, adjustable length, adjustable color, adjustable surface treatment.
4. Our WPC surfaces provide the ideal, tough, non-slip surface choice. Vivid wood grain appearance, look and feel more natural. The board has a self-cleaning mildew resistant structure and requires little maintenance.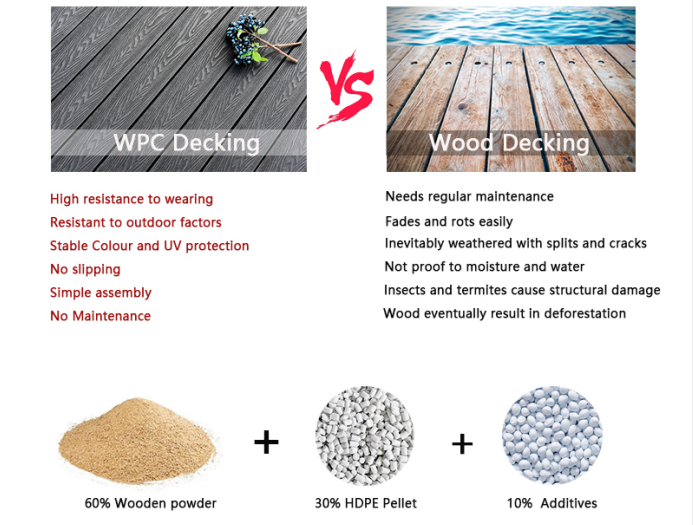 How to produce WPC products:

Step 1 : Mixing the raw materials:  PE and Wood Powder with kinds of Additives, there is a formulate recipe for WPC products.
Step 2 : Granulation into Pellets: The Mixture materials from the mixer discharged into Buffer Silo, which is standing by for the Granulation into Pellets.
Step 3 : PE WPC Decking Deck Board Making Machine, Co-Extrusion is getting more popular, Inside is granulated pellets(mostly is recycled PE with Wooden Powders) and covering by a co-extrusion layer New PE , the marketing trend is full capped 360degree, for better performance in outdoors.
Step 4 : Surface treatment, there are three different types of Surface treatment after extrusion:
Scratch: Brushing the surface for a feeling like the nature wooden;
Embossing: Rolling Embossing make the wood grained concave-convex feeling surface,
Polish: Polishing a smooth and mat surface is widely used in garden.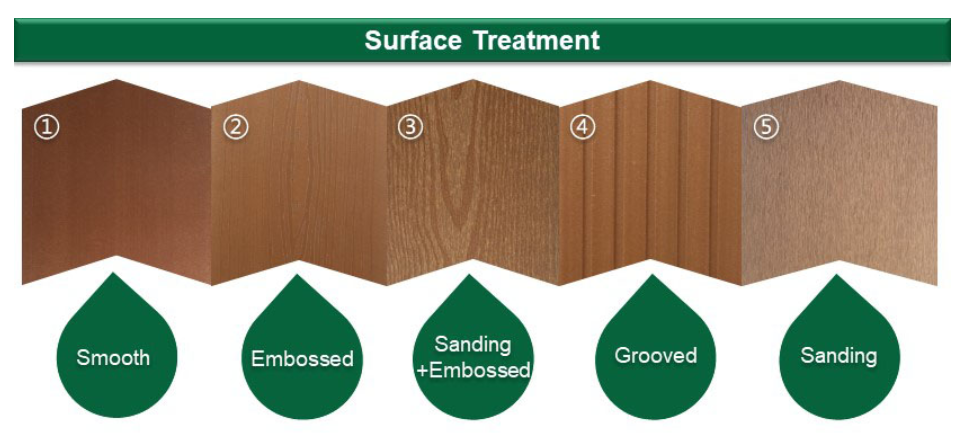 Equipment List of PE WPC Profile Board Machine? 
1. twin screw extruder(SJSZ65x132)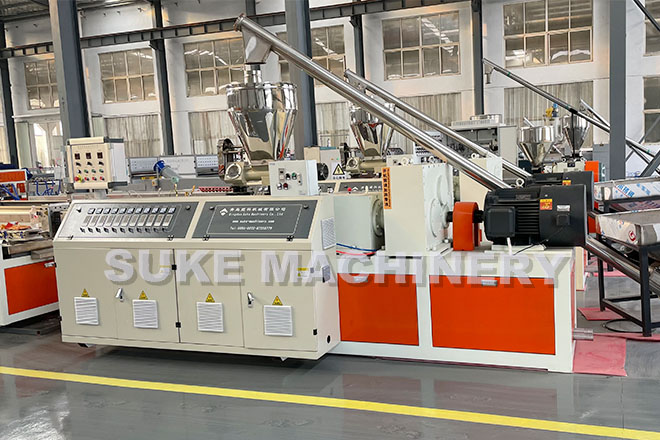 Extruder type: SJSZ65x132
Capacity: 350-400kg/h
Inverter: Schneider or Delta or ABB
Contactor: SIEMENS,
Motor: SIEMENS,55KW
Temperature control: OMRON
Vacuum pump: 4KW
Feding: screw feed with motor
2. Calibaration Plaftom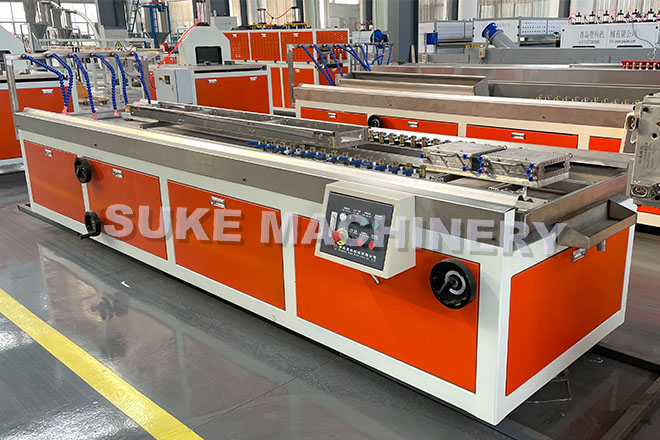 Length: 3000mm
Electrical forward moving
Driving motor: 1.5kw
Vacuum motor & water motor equipped
Recycling water cooling
Material of platform: stainless steel
3. Cutting Machine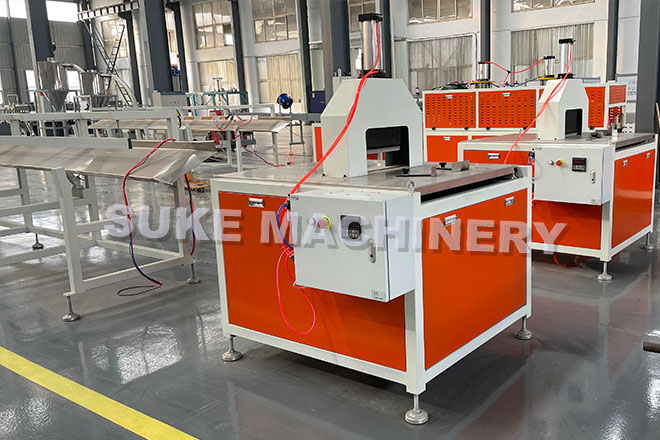 Cutting motor: 2KW
Blade control: cylinder
Automatic length metering, cut as setting meters.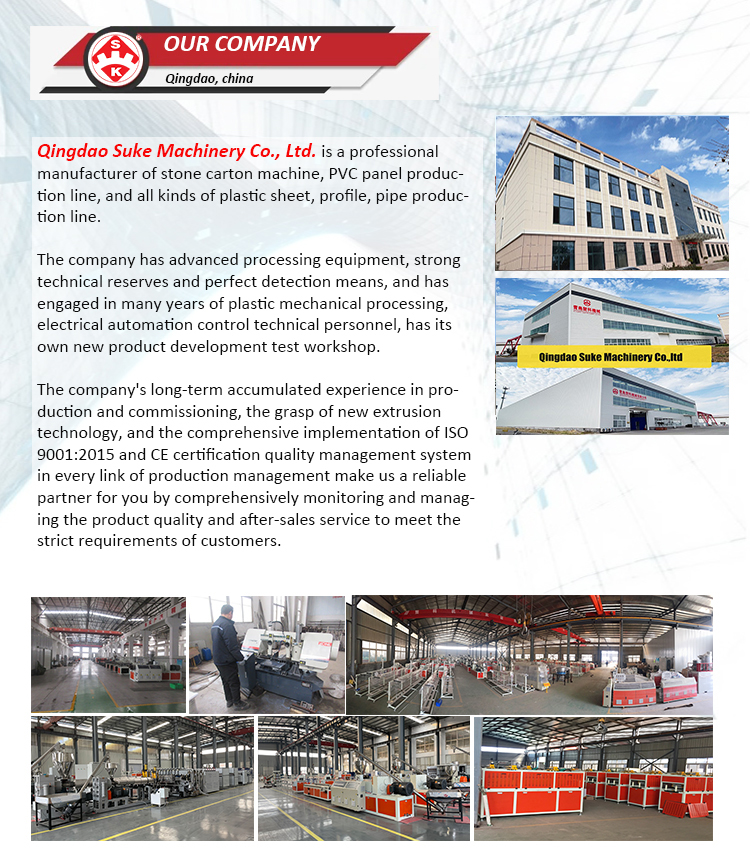 Qingdao suke Machinery Co., Ltd. as a professional manufacturer of plastic extrusion equipment, we have rich experience in PE WPC profile board machine. We are willing to provide professional and targeted plans according to customer needs. Welcome new and old customers to contact us at any time.
Other products